Karana Palms Resort FAQs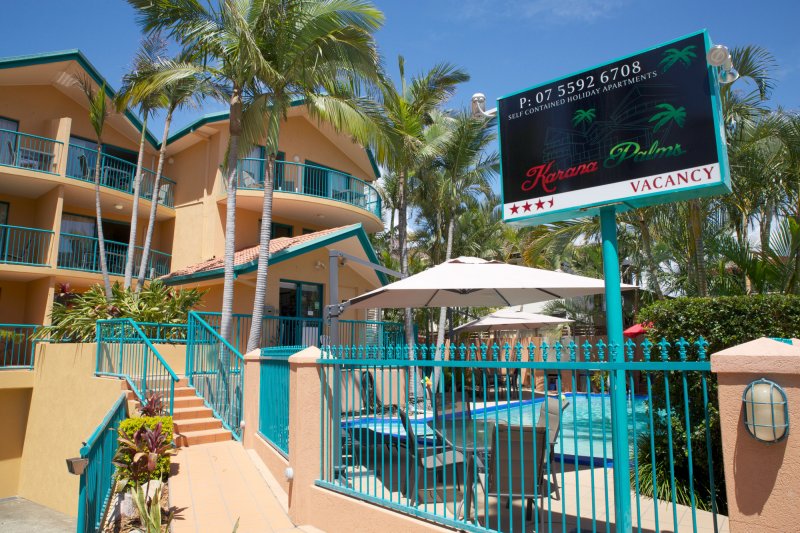 Browse the Karana Palms Resort frequently asked questions by selecting a category below. If you have a question that is not listed, please contact us.
Accommodation FAQ's
General information about our accommodation and facilities.
Q: What time is check-in and check-out?
Check in is at 2pm Check out is at 10am
Q: Do you require a security bond upon check-in?
Yes, we require credit card pre-authorisation of $250 as security at check in.
Q: Is there Internet or WiFi access available?
Yes, we offer free WIFI with limited data for basic needs. Please note a nominal charge will apply for unlimited data to support the ongoing cost of WIFI setting.
Q: Is the swimming pool heated?
Yes our solar heated pool is heated in the winter months
Q: What facilities do you have?
Outdoor Swimming Pool Barbecue Facilities Tour Desk
Q: Is after hours check-in available?
Yes we offer 24 hour checkin. Please follow the instructions at door when you arrive if the office is closed
Q: Is there car parking available?
Karana Palms offers Free Secure underover parking
Q: How often are the apartments serviced?
Apartments are serviced for a stays of more than 7 days Additional servicing is on request at a nominal cost
Q: Is all linen provided?
All linen is provided during your stay with us at Karana Palms
Q: Is it possible to have a late checkout?
Yes a late check out is charged at $10p/hour
Q: Are pets allowed?
Pets are not permitted at this property.
Q: Is there air-conditioning in the unit?
Yes, there is air-con in each unit. Please note air-con usage is included if you are paying the standard rate. However, a small fee will apply if you are paying at a discount rate.
Location FAQ's
General information about our location.
Q: Are there shops or restaurants nearby?
Yes - Chevron island has variety of shops, about 10 cafes and restaurants catering for all your needs
Q: Where can I buy groceries locally?
Coles and Woolies are 5 minutes walk from Karana Palms
Q: How far away is the beach?
The beach is only an 8-10 minute walk
Q: Is there public transport nearby?
Yes local buses are available from the Gold Coast Highway which is only a 5 minute walk
Q: Can I book theme park tickets at reception?
We offer a Tour Desk to book or your local theme parks and attractions. However you can book online prior to your stay BOOK YOUR ATTRACTIONS NOW